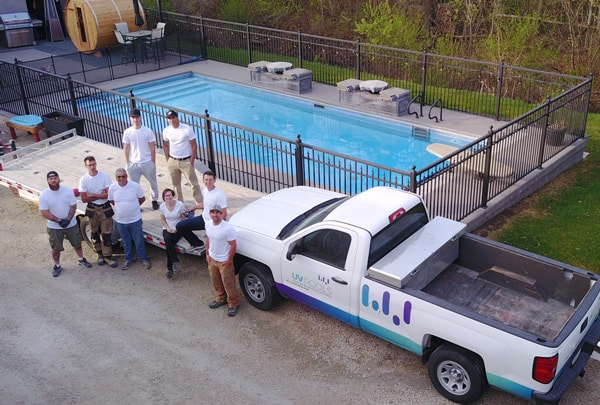 If you've been delaying your pool repair because you have not wanted to have your swimming pool drained, UV Pools can help. Not having rebar rust stain removal or additional cosmetic work performed makes your swimming pool look less-than-attractive.
Crack Repairs
Is your swimming pool cracked? Over a period of time, cracking may happen on the wall and floor of your pool. At UV Pools, we have the supplies and tools required to do crack repairs without having to drain your pool!
 Leak Repair and Dye Test
If you think your pool has a leak, a dye test will allow us to know where that leak is located. Even better, we will go ahead and repair the leak without draining the water from the pool.
Rebar Rust Stain Removal
Are there unsightly stains on the concrete? Odds are that it is coming from the reinforcement bar underneath the pool's surface. Your UV Pools professional will repair it. No pool drainage necessary!
Plastic Wall Step Replacement
Over a period of time, you might experience break and cracks in your fiberglass or plastic pool steps. Draining a pool to repair them is not necessary; at UV Pools, we aren't afraid to get wet!
Calcium Nodule Removal
Calcium may leach out from your cement pool, and lead to white lumps on the interior wall's surface. Referred to as calcium nodules, these unsightly bumps may be taken off by the underwater pool repair professionals at UV Pools.
Pop-Up Removal and Replacement
If the pop-up cleaning nozzles aren't working or are malfunctioning, you will notice it by the dirt in the pool. We will get you back to where you ought to be with our pop-up replacement and extraction services.
Pebble Repairs
PebbleTec is a popular choice for pools in Narol. If you are missing a big stone, we will repair it for you without letting the water out of the pool, which possibly causes further issues.
Replacement of your Drain Cover
Do not allow a broken drain cover to become a safety hazard for all who utilize your pool! We will replace yours without allowing the water to drain out or otherwise impact your swimming pool's usage.
Delaminated Surface Repair
If you have had your swimming pool drained before for a repair job, you may wind up with bubbles and pops in the floor or sidewalls. We will repair these delaminated surfaces without having to cause more damage.
Rope/Cup Anchor Replacement
Pool rope and cup anchors will give you a huge headache as they pop out of place or come loose! Allow us to assist you by getting them replaced without the trouble of draining the pool.
Let Us Repair the Leaky Pool
No matter which kind of non-plumbing repair you require, our pool professionals will deal with it. We specialize in pebble repairs, repairing cracks, rebar stain removal and delaminated pool surface repair. We also can do dye testing to figure out precisely where the issue is and how extensive it may be.
For more information about the best inground pool company contact UV Pools today!