We repair pools so you can take back your summer!
Don't miss out on another summer with pool!
Summer in Manitoba is far too short to have your pool sitting empty.
Take back your summer with a like-new pool.
Before tearing out your existing pool and deck, call UV Pools to to explore how we repair and restore leaking, tired, and unusable pools to their original beauty.
If your pool is leaking, a new liner is a fraction of the cost of installing a new pool. Plus your pool will be more efficient after we leave than when we came.
If your pool liner dates from the days of prom, it probably doesn't look much better than what you wore that night! We have the latest, coolest liners to update the look of your pool.
UV Pools: Your Pool Liner, Pool Renovation & Pool Repair Nerds
If you have a pool in need of repairs in the Winnipeg area, we can help.
---
UV Pools offers Canadian-made inground swimming pool liners, custom made to fit your pool like a glove.
With the use of pool safety covers, you can turn your summertime paradise into a beautiful and safe winter surface.
With the use of a mesh pool safety cover, your backyard will be a safe space for children and pets all year long.
On our first call, we will determine if UV Pools is able to effectively meet your needs.
Call or text: (204) 414-1200
We will come to you for a comprehensive, free, on-site consultation.
Once we start work at your home, we will exceed your expectations for efficiency, and leave your yard better than we found it.
Kinds Words from Happy Customers
We are proud to share some of the kind words that our customers shared with us!
---
Winnipeg's Pool Repair Specialists
---
At UV Pools, we know that you want to make your home the life of the party. In order to do that, your pool needs to be operating on point.
The problem is that your pool is a leaking hot mess that no one wants to use, which makes you feel embarrassed about your backyard.
We believe you and your guests should love your pool. That's why at UV Pools we don't just repair pools, we create spaces that welcome you and your guests.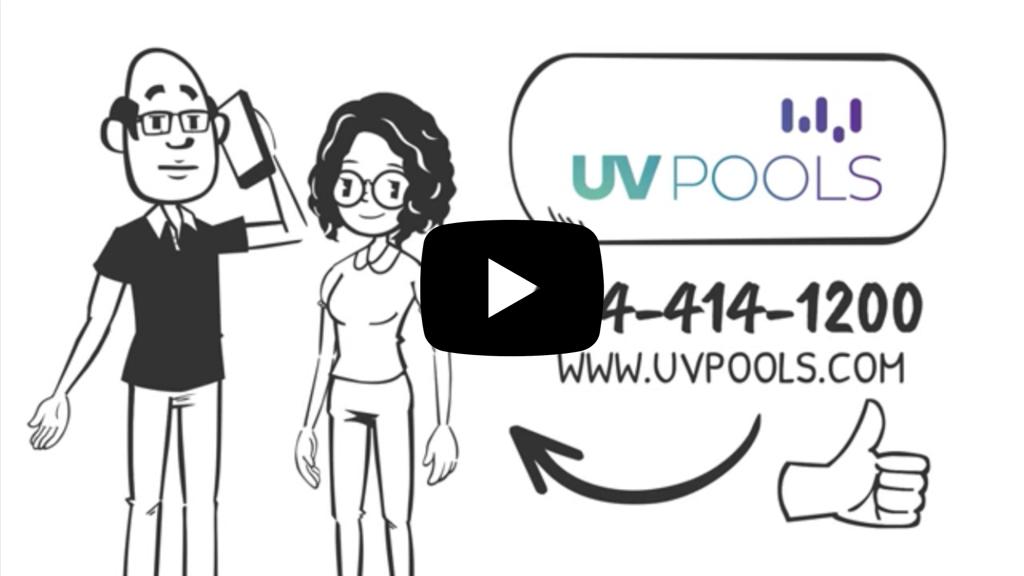 Be like Gary and Tina. Fall in love with your pool all over again!
Taking on a pool renovation project can seem demanding. But as you'll see in this fun video, that's not the case with the friendly team at UV Pools. We take the stress out of your pool renovations every step of the way.
We have been doing this long enough to know what questions are likely on your mind.
If you don't find an answer below, please give us a call and we will do our best to get you the information you need to make a great decision about your pool.
---
Not quite ready to purchase a full liner repair?
We have a complimentary pool repair kit for the DIYer's out there.
Just fill out your name and address and it will be in the mail within 2 business days.