We are pool nerds and proud of it!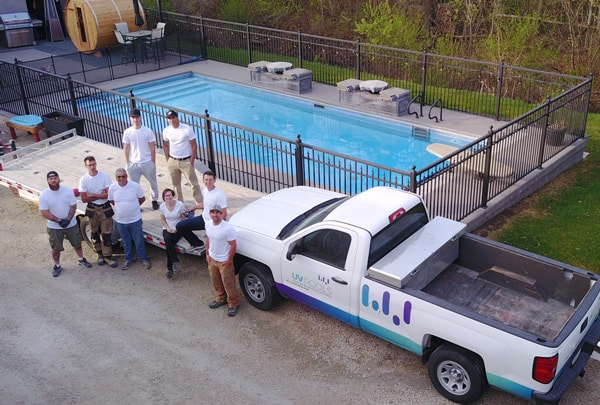 There are movie nerds, computer nerds, and sports nerds - everyone on our team is a pool nerd. We run three separate crews of people that are all seriously knowledgeable about pools, and they come to each job armed with their expertise a sense of humour. Everyone who steps on your property is bonded and insured, plus they're pretty awesome folks. That's why we hired them.
See the UV POOLS difference
They call me the fearless leader of UV Pools - a title which is at least 50% accurate. I am a second-generation pool builder with a passion for continuous learning and innovation. My experience with pool repairs goes back nearly two decades and I see the need for more trained trades in the pool repair industry. That's why I designed UV Pool's internal apprenticeship program for up-and-coming pool craftsmen - the first of its kind in Manitoba. I firmly believe that when you select the right people who share a similar vision, and provide excellent training, homeowners will experience the best service possible.
When I'm not in the office or out in the field, you might find me scuba diving and skiing (although usually not at the same time).
I joined UV Pools in the spring of 2016 as their office assistant. Since then I have moved into a Sales Support role. I manage site visit and sales proposals as well as keeping our team on track with job scheduling. I have extensive customer service experience and I love being able to represent a great company like UV Pools.
In my free time I enjoy going for walks and bike rides with my husband, practicing yoga, and playing with our little dog Cooper.
I joined the UV pools team in the spring of 2021. I have a background in customer service and management experience which has been invaluable in my role as office assistant. When you call, you'll likely hear my voice on the other end of the line.
In my spare time, I enjoy being outdoors with my boyfriend, mandala painting, and spending time with our two [very] spoiled cats, Oliver and Hippo.
I joined the UV Pools team in 2010 and currently work as the construction supervisor. I believe that having an eye for detail and a strong work ethic is critical for success. You will meet me on large renovation projects and every pool liner installation.
I live in Winnipeg with my wife, our new baby girl, and our adorable dog Olive. I love the outdoors and also plan to snowmobile till I am 83 years old!
I joined UV Pools in 2007 as the very first employee. Currently my role is service supervisor.
I have 6 children and live outside the city with my wife. I love my grandchildren and building gigantic wooden decks. When it comes to woodworking I am often accused of knowing all the answers... which I do.
I joined UV Pools in 2017 after 9 years of construction experience that included building pools from old shipping containers.
I live in Winnipeg with my wife Kristie, our daughter, and our Bearded dragon Sriracha. When I'm not working, I love gaming, quading, and being at the cabin.
UV Pools specializes in complete pool renovations and pool liner replacements. Our team is the only Manitoba-based pool company to hold a Genesis 3 Gold accreditation for educational training and building ethics, and we are constantly keeping up to date with changes in the industry. Our team is dedicated to providing every customer with peace of mind through superior commitment, communication, and integrity throughout all UV Pools projects.
The experts at UV Pools enjoy being innovative and creative, and building pools that last. We use stainless steel where most others use coated steel, high strength concrete instead of regular strength, and we rebuild where others repair. We are always training and building the skills of our team to increase our capacity and market share of the swimming pool industry in Manitoba. We believe in constant improvement and using creativity and resourcefulness to provide our clients with a high quality and stress free renovation process.
Today, we offer a variety of services related to pool renovations including swimming pool repair, vinyl liner replacement, safety covers, ultra violet light sanitation, pool equipment upgrades (including gas heaters), pool automation, complete pool remodeling, and chlorine alternative sanitation systems. Are you ready to start transforming your backyard? Contact us today!