---
Meet Our Spectacular Team Of Pool Nerds

There are movie nerds, computer nerds, and sports nerds – everyone on our team is a pool nerd. We run three separate crews of people that are all seriously knowledgeable about pools, and they come to each job armed with their expertise a sense of humour. Everyone who steps on your property is bonded and insured, plus they're pretty awesome folks. That's why we hired them.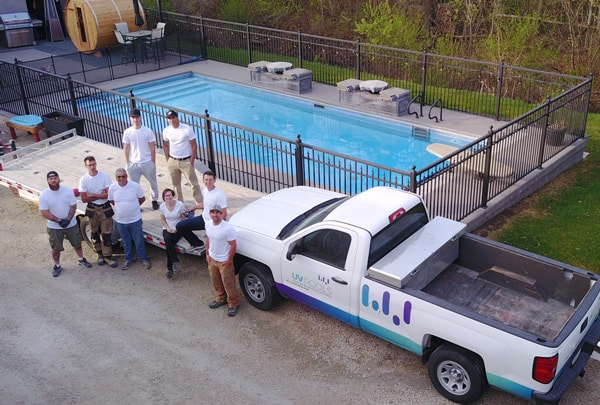 ---
Dale Kreviazuk
It was in 2004, while I was attending college, studying the machinist trade and working on pools as a summer job for my Dad when I first saw an opportunity to repair pools under water using scuba gear. I had an interest in diving, and when coupled with swimming pool repair experience, it seemed like a great way to pursue an interest and make it more than a hobby.
After completing scuba training in 2005, I started repairing pools with scuba gear underwater and started a business called Underwater Vinyl Pool Repair. While still going to college and working out of my '91 Pontiac 6000 car, I expanded into other types of larger pool repairs.
I have always been driven by a passion to learn and innovate, so I would build specialty tools for repairing pools using what I learned as a machinist. A few years later, Underwater Vinyl was shortened to UV Pools and I hired my first employee.
Brandon Kosack
Brandon joined our team 6 years ago. He is our friendly and approachable construction supervisor. With a keen eye for detail and a strong work ethic, you will meet Brandon on large renovation projects and troubleshooting projects. Brandon is recently married and lives in Winnipeg with his wife. He also plans to snowmobile till he is 83 years old.
Frank Guzzi
Frank joined our team over 8 years ago as the very first UV Pools employee. He is our construction foreman and service supervisor. Frank has 6 children and lives outside the city with his wife. He loves his grandchildren and building gigantic wooden decks. When it comes to woodworking he is often accused of knowing all the answers.
Julie Sikorski
Julie joined our team in the spring of 2016. As our office assistant Julie is the voice behind the phone and the emails at UV Pools keeping things organized. Her many years of customer service experience makes her a valuable asset to our team. In her free time Julie enjoys biking with her husband Darrell, hot yoga and walking their little dog Cooper.
Challenges Today
Today, our challenge is teaching the swimming pool trade. The swimming pool trade is not taught in trade schools. Having recognized this problem, we have a full in-house training course for everybody, which is unique to our industry.
Most of the training in the past has been informal and handed down from mentors in the industry. A key mentor for us has been my dad, Sam Kreviazuk, original founding partner of Krevco Pools & Spa in 1980. Sam brings over 46 years of experience building pools in Manitoba and has more than 5,000 pools to his name.
UV Pools Today
Today, we specialize in complete pool renovations and liner replacements. In a world where skill diversity is taught, I chose to take a different approach:
I want to be the best at one thing.
Sometimes customers are surprised that we don't winterize or summarize pools, or even clean pools. There is so much to learn simply by installing pool liners and performing pool renovations that doing it all would take away from what we strive to be the best at, and that is renovating in-ground pools.
Even today, I still love working onsite and staying involved in the renovation process from the initial phone call to when the customer's pool is swim ready. I find this is the best way to ensure that all the details and promises that were discussed in the sales process and along the way are fulfilled.
Staying Up to Date
We attend all the training we can and learn from each other and from mentors in the pool industry. We are the only pool company in Manitoba to hold a Genesis 3 Gold accreditation for educational training and building ethics.
We also like to challenge the way things have been done over the last 50 years in the pool industry in Winnipeg and make improvements. We enjoy being innovative and creative and building pools that last. We use stainless steel where most others use coated steel, high strength concrete instead of regular strength, and we rebuild where others repair.
The Future of UV Pools
We are always training and building the skills of our team to increase our capacity and market share of the swimming pool industry in Manitoba.
Today, we offer a variety of services related to pool renovations including swimming pool repair, vinyl liner replacement, safety covers, Rubaroc concrete deck coatings, ultra violet light sanitation, chemical free pools, pool equipment upgrades (including gas heaters), pool automation, complete pool remodeling, chlorine alternative sanitation systems, and salt water conversions. Are you ready to start transforming your backyard? Contact us today!